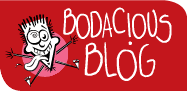 Penelope Anne over at
The Cafe At The End of the Universe
awarded me this lovely bloggy award.
This is a special type of award, that you get awarded, then award it on to others. Take some joy and pass it on!
To fun and friends. To each other, sharing, supporting, and laughing through the pains and successes of life.
Thanks Penelope Anne!
I am giving this award to my know-you-in-real-life blogging friends. Without further adieu, Here's the list.
Faithib
Ameryth
Dana
Rambleman
Lovelife
Now I get to travel around and tell all these lovely folks in their comments that they've received this special reward.
Pass on the love. Who do you know with a bodacious blog?
Technorati Tags: blog, award, bodacious, blog award
Del.icio.us Tags: blog, award, bodacious, blog award