Yesterday I woke up at 8am to wait for a friend to come pick up his yard sale signs that he loaned me last year. We stood around and talked about digital photography and family for a couple of hours until he had to leave and another friend showed up.

Then I went out to lunch with my other friend for her granddaughter's birthday after dropping off some donations to a local homeless shelter. I painted her grandaughter's entire face as a treat.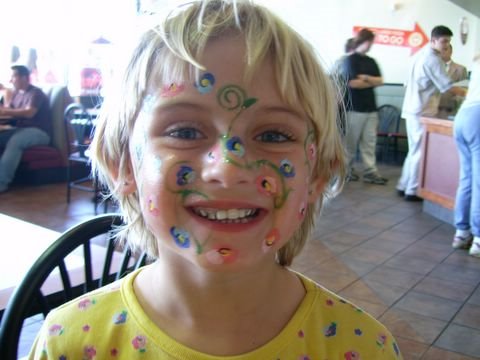 Her girls usually only get one cheek painted when they see me, so that was extra super special. *smile* She had no clue what she wanted, so I made her match her shirt. We also dropped by a charity yard sale before I could get my money out of my bank, and I purchased 2 yoga balls (that was what was on our wish list) complete with stands, and resistance exercise bands, a VCR, and a large cell battery charger for $18. (she "loaned" me the money) After the yard sale, she asks me what road we are aiming for. I assumed she meant what road was my bank on. I told her how to get to my ATM, and she refused to go. *sigh* Come to find out, she didn't want me to pay her back, and refused any attempt for me to do so. *wry smirk* Just because I do the same thing, doesn't mean that it's alright for other people to do it to me. *laugh* Though now I think I understand how some people feel when I do my own random gifting. I think I'll manage to make up for it with the pieces of plywood she's supposed to be picking up soon for her back room. *smile* It all works out evenly in the end amongst friends. *smile*

When I got home, I received a phone call from another friend to come over and pick up some dog fur for spinning into yarn (a new thing I want to try). I took a nap, then went over to her house. She has a very intriguing spiral staircase.



We chatted and goofed off into the wee hours of the morning.



She gave me some heirloom native corn seeds, keifir grains, and Keebler was gifted some MRE bits (to his never ending delight). We even managed to pick up some cans for a friend of ours. *smile* Littlebit got to watch Bambi and Bambi 2. We all had a great time.

We dropped by the place that lets us have their old pickle buckets, but they didn't have any yesterday, so no pickle buckets for us. We may actually have to end up buying some new at a store! *faint*

It was a VERY busy and tiring day.